The Kilns at Te Horo : an update from The Mirek Smisek Arts Trust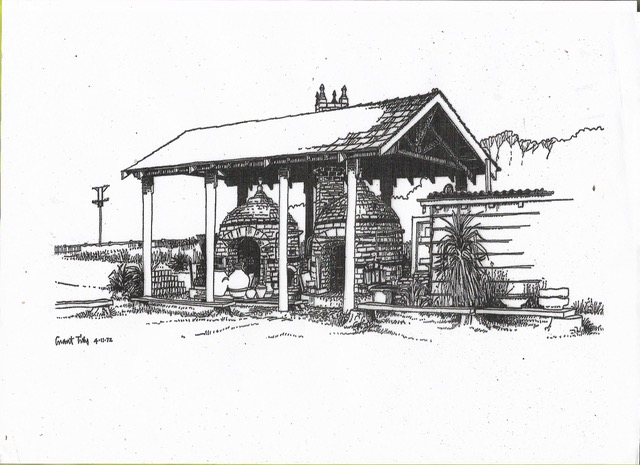 Real progress has been made at the site of Mirek Smíšek's historic beehive kilns at Te Horo, Kāpiti Coast.
When the section of expressway between Peka Peka and Ōtaki was under planning consideration it was clear the new road would track directly through the land where ceramicist Mirek Smíšek lived, worked and taught. And where he built the distinctive beehive kilns.  A group of interested locals formed the Mirek Smíšek Arts Trust to protect the site and the historic kilns – requiring relocation onto adjacent land.
The Trust are pleased to report there is tangible progress.  Potter Duncan Shearer and master brick layer Rick Meade have expertly dismantled and rebuilt the kilns and flue on the new site – brick by brick!  A replica of the original roof structure with timber shingles is soon to be completed.  Next will be restoration of buildings – the original Te Horo railway station Smíšek had moved onto the land will be reconditioned to a liveable standard suitable for a resident potter, and the little red cottage restored to a usable state. Road access and an area of car parking will be provided along with services.  At that point the site will be handed over to the Trust, likely to be late 2022.
We acknowledge and thank Waka Kotahi NZ Transport Agency who have funded the work to date, with more to come.
In the meantime the Trust are working through the business plan and consulting widely aiming to deliver a place of history, inspiration, teaching, exhibitions and retail opportunity for ceramics and the arts of tangata whenua of the region. To be a resource for the community and visitors from throughout New Zealand. And a unique destination for all potters and those with a passion for ceramics.
Lots of work to do yet to make it a reality! But it feels like we are underway now.  To keep up with progress and to stay informed please email info@smisekartstrust@gmail.com to join the mailing list for newsletters and to be notified when the Facebook page and website launch.
Article by Jane Manthel