Otago/Southland Report, June 2021
60th National Diamond Jubilee Exhibition in Dunedin
Presently we are gathering all manner of materials for the 'Heritage' section, being part of our contemporary exhibition. It has its own gallery space within the Otago Art Society premises. We have been able to source material from the first exhibition and are still looking for material that will be digitally displayed. We hope that members who were part of the early days of the Society will take part in the interviews that we have planned. It will be so exciting to hear their voices giving us that historic snapshot of their experiences.
Dunedin will be bursting with events our Labour Weekend so you will be fully occupied while here.
Here is an overview of what you could do:
Friday, 22 October, as already listed on our events page, Sara Scott has an exhibition opening at midday in the Moray Gallery in Princes Street.
Following that you may want to walk over to the Otago Museum through George Street, it takes about 15 minutes, not counting window shopping or other stops on the way. The Otago Museum has a great ceramic collection. From the Museum it is again a short walk back to the Otago Art Society for the Awards night at the Dunedin Railway Station. Walk through George Street, on the other side this time.
If you wish to see more ceramics or, as an alternative to the Museum, I would suggest visiting Olveston. The historic home of the Theomin Family contains a great range of ceramics from different parts of the world.
Saturday, 23 October starts early with a ceramic walkabout. Beginning with van Brandenburg Architecture, then Brett McDowell Gallery, The Milford Gallery, De Novo Gallery and Olga Gallery, we finish the walk in the Octagon, the city centre, for a lunch break. Following that, our judge, Dr. Emma Bugden will give a presentation at the Dunedin Public Art Gallery (in the Octagon). Just around the corner, in Princes Street, the Otago Potters Group have their annual exhibition show, which concludes the day.
Sunday and Monday (24th and 25th) are filled with the events at the Dunedin School of Art (Riego Street) that have been posted already on our website. All the event details are on our website, www.ceramicsnz.org.
We, the Fusion 2010 team, hope you will enjoy our Festival of Ceramics as much as we enjoy organising the event for Labour Weekend. We are looking forward to seeing you!
These images from Queenstown's Wakatipu Potters Group (WPG) were part of LUMA, an annual light festival held in the Botanical Gardens each year.  It was our third year of participation and this year (2021) the Festival attracted over 60,000 attendees during the first weekend in June.  There were two projects installed, one was our fungus inspired display by WPG club members involving 90+ various ceramic fungi (and a few fairies too) planted at ground level wrapping up into the large, central tree in the Rose garden. The other installation of snowflakes were made by local school children of all ages themed from the book, Narnia, by CS Lewis.  People entered the display thru a dark, coat-filled 'cupboard' exiting into a sparkling wonderland of colourful snowflakes filling the night forest.  The installations were a huge effort by our creative potters,  LUMA professionals advising engineering, lighting/sound, and some construction.  This project was funded by grants from QLDC Creative Communities Scheme and LUMA, as well as hours of voluntary workmanship by members of the Wakatipu Pottery Group.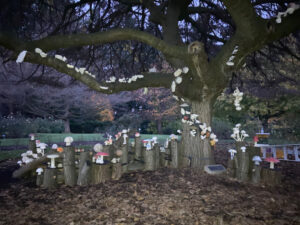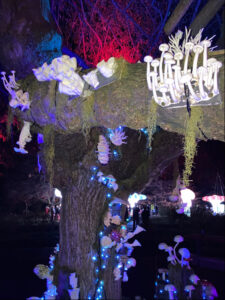 Images courtesy of Martha Matthews.