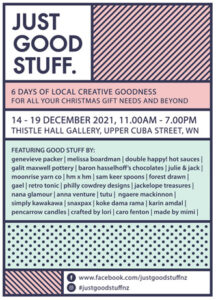 On now at Gallery Twenty Six @ 26 Constable st in Newtown, we have a selection of Wellington Potters associations members all congregating for a ceramic pop-up extravaganza. Fancy a spot of Christmas shopping or a chance to discover some of wellingtons hidden pottery talents?
Just Good Stuff at Thistle Hall Gallery, 295 Cuba st, December 14 – 19, 11am – 7pm Local creative goodness for all your Christmas gift needs and beyond – featuring the work of 25 local designers and makers, including our very own CNZ ceramic artists; Galit Maxwell and Karin Amdal.
Fellow member Kirsty Gardiner is representing ceramics in an exhibition called Four on the Floor at Whirinaki Whare Taonga, Upper Hutt from 11 December – 13 February, show casing four Wairarapa Artists.
Finally, to add an extra mention to the December reading I wanted to share that I have been chatting with an old family friend who I am delighted to share to has returned to Pottery after a 20 something year hiatus. Many of you will know of Neil Gardner, but for those of you who don't, please allow me to introduce to you one of our fellow CNZ members.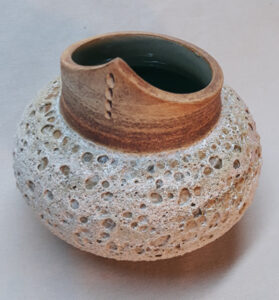 Neil Gardiner based in Paekakariki has joined us here at Ceramics NZ to get back in the loop and see what's going on. Unfortunately we missed his studio grand 'opening day' a few weeks ago, but I felt the announcement was significant all the same.
"I was full time for 22 years (Gisborne, Auckland, Wellington) but this return is on my terms and the commercial imperative, while helpful, is not my driving force. Being free to experiment with form, texture and decoration is……… all the while coming to terms with firing an electric kiln! I am otherwise busy with my garden and property, a band, and extended family and friends etc., so there's not much time in the week."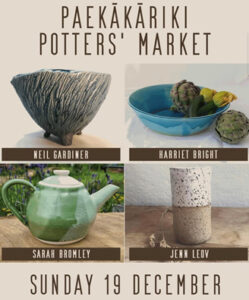 Neil has set up a show-room that is open by appointment only with a view to have the odd open day here and there.
You can catch Neil this month at the Paekakariki Potters Market – Sunday 19th December 10.30- 1. Campbell park, Paekakariki.  Some lovely local potters including Neil Gardner, Harriet Bright, Sarah Bromley & Jenn Leave will be setting up to sell some wares.
Written by Karla Marie email pottery@karlamarie.nz