Ceramics NZ Touring Potter Programme 2022 Carla Ruka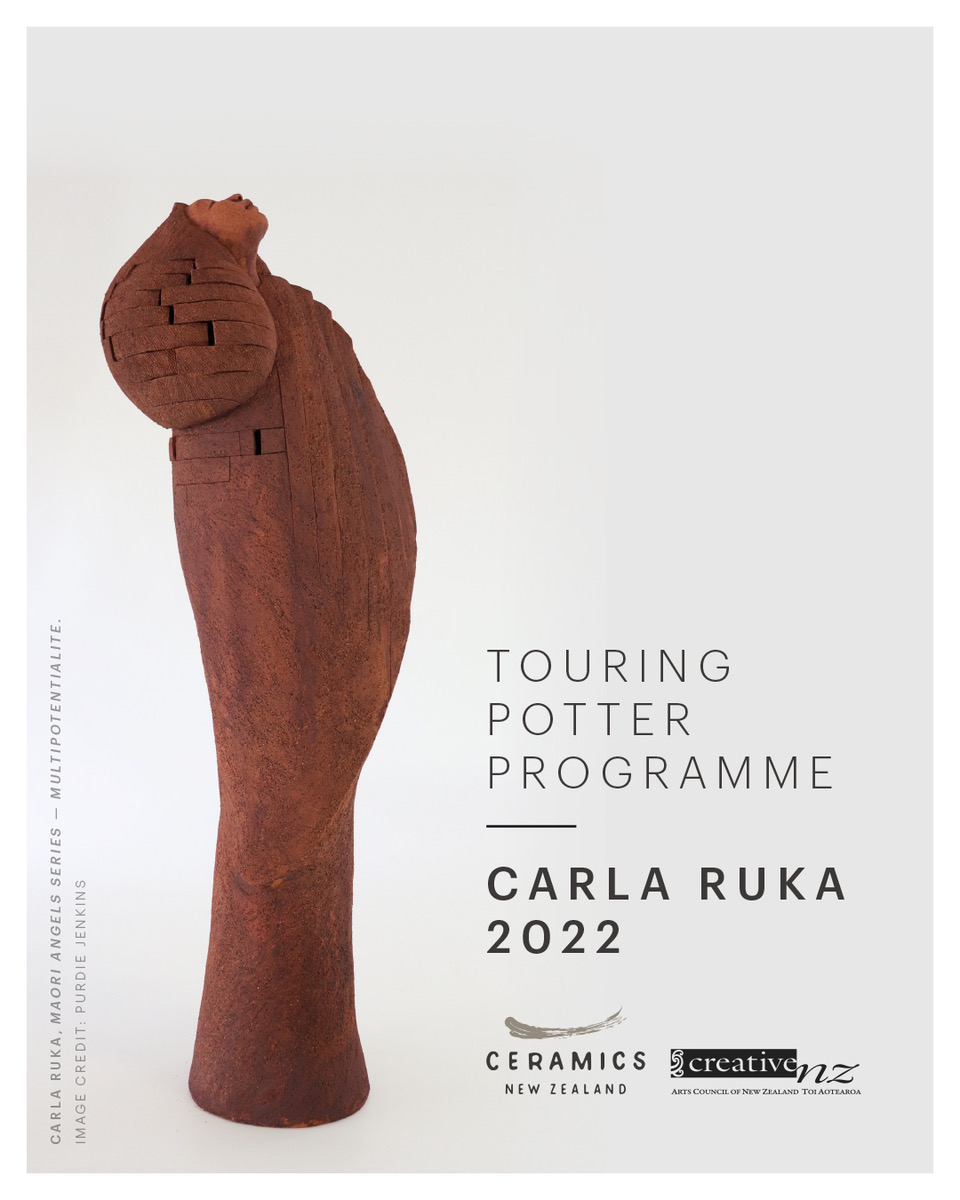 The Ceramics Association of New Zealand is pleased to announce a national tour of workshops and artist talks with Carla Ruka.
Join one of Aotearoa's leading ceramic artists, Carla Ruka, as she visits five regions round the country to give a series of workshops and talks that focus on large scale sculpture and her practice as an indigenous artist and as a member of the Māori clay collective Ngā Kaihanga Uku. Ruka is known for her large-scale hand-built forms made using a unique coiling technique that she has developed during her 22-year practice. Her series Hineukurangi and Māori Angels Series are among her most recognised works. Don't miss this unique opportunity to receive hands on instruction from Carla Ruka during her visit as part of the Ceramics NZ Touring Potter Programme, supported by Creative NZ.
Registrations will open on our website soon, please contact touringpotter@ceramicsnz.org to register your interest.
"Coil Aotearoa" Workshops Programme Description
Coil Aotearoa Workshops are focused on learning the techniques of coiling for large scale sculpture. Participants will learn how to hand build a clay sculpture to a height of 50cm-2 metres (depending on workshop level as listed below). Workshops will take place in three consecutive 5-Shour sessions with 1 week drying time between sessions. (e.g. Each Sat 10am-3pm for 3 weeks) Beginner/intermediate workshops allow for 12 students max. Master workshops 14 students max.
Carla Ruka
Representing Aotearoa for Indigenous ceramics Carla is a formidable artist in her field. As an active member of Ngā Kaihanga Uku – Māori Clay Artist Collective and committee member of Auckland Studio Potters, Carla has been a practicing ceramic artist since 2000, completing her studies in Māori Art and Design focused on ceramics from a Māori and Wahine Toa perspective. Ruka has participated in national and international projects undertaken by Ngā Kaihanga Uku and has fostered connections within the ceramics community through her work at Driving Creek Pottery and as the Director of Auckland Studio Potters. In 2020 she curated the exhibition "NUku" at Te Uru Waitākere Contemporary Gallery.
"My work is a reflection of my spirit, I can see a piece I made 10 years ago and still remember exactly how I felt when I made it"
Tribal Affiliations: Ngā Puhi, Ngāti Whātua, Ngāti Porouri
KEY DATES
March 13, 20, 27 Beginner Workshop New Plymouth Potters
March 14, 21, 28 Beginner Workshop New Plymouth Potters
March 19      Artist Talk                           Govett Brewster Art Gallery, New Plymouth
April 23, 30 May 7 Beginner Workshop Hihiaua Cultural Centre, Whangarei
April 26, 3, May 10 Intermediate Workshop Reyburn House, Whangarei
Dates TBC      Artist Talk                           The Suter Art Gallery, Nelson
Dates TBC      Beginner Workshop           Nelson/Marlborough
Dates TBC             Waikato
June 25, July 2, 9 Int/Advanced Workshop Shoal Bay Pottery, Great Barrier Island
For updates follow us online:
Facebook @CeramicsAssociationofNZ
Instagram @ceramicsnz