Wellington/Western Districts Report – March 2022
ON NOW – New installation at Quartz in Whanganui discusses modernism – with Ceramicist Maak Bow
Every year, Quartz Museum of Studio Ceramics presents a new installation by an artist chosen by curator Rick Rudd. This time, the artist is Northlander Maak Bow and the installation is called 'I have no dog in this fight'.
Check out the Chronicle article here:https://www.nzherald.co.nz/whanganui-chronicle/news/new-installation-at-quartz-in-whanganui-discusses-modernism/IQTJH63RXA2UMPYWMRIXH6W6UY/?fbclid=IwAR0pU77M-czFS5oVgrnrEI7QEQVHBsqAxp2MFZVXcXlvbxea1SaYLdHr9uE
Wanganui Artists Open studios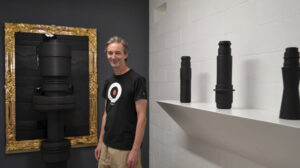 LOSE YOURSELF IN OUR DENS OF CREATIVITY – 19 – 27 MARCH 2022
WHANGANUI: THE ECLECTIC ART CAPITAL OF AOTEAROA
Dive deep to explore the creative process.
Embark on an adventure to find the art that moves you! In this eclectic multimedia showcase of local talent, hundreds of artists will open their doors and share their unique craft over two weekends in March 2022.
As one of the largest, longest running and most diverse artist trails in the country, we invite you to come and meet some of New Zealand's leading and emerging artists.
Some studios are open between the weekends and year round, so make sure to check out their profiles and look for the arrow and calendar icons.
STUDIOS WILL BE OPEN:
Saturday 19 – Sunday 20 March 2022 from 10.00am – 4.00pm
Saturday 26 – Sunday 27 March 2022 from 10.00am – 4.00pm
For more details go to: https://openstudios.co.nz/?gclid=CjwKCAiApfeQBhAUEiwA7K_UH9-ffnoasnNfgzAKQDBETvWq5VzMMSodo1JEBVfAlnjRAVNp5i0SjRoCaskQAvD_BwE
Karla Marie