Remembering Dorothy Ewart – New Zealand Potter
Dorothy Ewart and her work. Image courtesy of Stuff Limited.
Dorothy Ewart, who passed away on 8 January 2022 in Auckland at the age of 96, occupied a unique but relatively unknown place in our pottery history.  Her work features quintessential New Zealand designs and patterns while demonstrating a steadfast commitment to a singular vision.  Underlying this was Dorothy's fascination with traditional English feathering and slip trailing techniques on red earthenware.  Few of her contemporaries have incorporated these techniques in their work with her consistency.
Dorothy was born in 1925 and grew up in Lower Hutt.  After completing her schooling, she attended Wellington School of Art for two years which included a course called "Working with Clay" that she particularly enjoyed.  Following this, Dorothy commenced work as the Illustrations Officer for the Journal of Agriculture and later held the position of Art Editor.
It was during this time that Dorothy became aware of Bernard Leach and his pottery.  As clay and clay sculptural work had been her best subjects at art school, she began to consider the possibility of learning to be a potter.  Attending a night-class was the standard way to learn to be a potter in the early 1960s.  Dorothy undertook a course in 1961 at the Hutt Valley Memorial Technical College.  There she had lessons from Donald Roberts, who had previously taught pottery to a group of women, including June Black, Mary Hardwick-Smith, Helen Mason, Muriel Moody and Lee Thomson, who all became quite well-known in later decades.  Dorothy became frustrated with the classes but Helen Mason encouraged her to persevere and with this support she learnt to throw, glaze and work with slabs.  She attended a pottery summer school at the Elam School of Fine Arts in Auckland in 1963 where the tutors were Barry Brickell, Len Castle and Mason.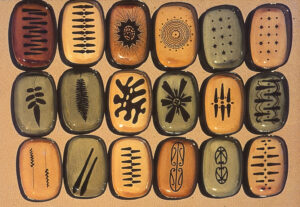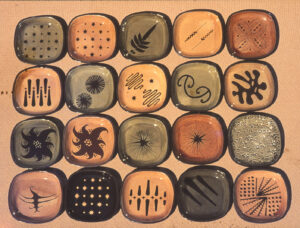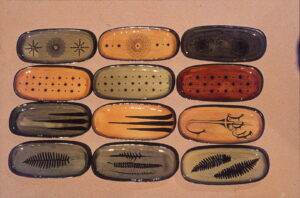 Work by Dorothy Ewart, 1961. Photographs: Hugh Ewart.
In 1963, Dorothy travelled to England with her husband Hugh.  In July, they went to St Ives in Cornwall to visit the Leach Pottery where they saw many of Leach's pots and those of Kenneth Quick and William Marshall.  Mirek Smisek was working there at the time and he showed them around.   Prior to returning to New Zealand, Dorothy attended a residential pottery course run by John Shelly at Littlehempston, near Totnes, in Devon.  Shelly had worked under Ray Finch at Winchcombe Pottery but later made his own wares and gave residential workshops from his home.  Dorothy focussed on the slip-trailing that was Shelly's interest as she had not seen this type of work before.  She learned that this was a process utilised by English peasant potters of the 17th and 18th centuries, and involved decorating large platters and oven dishes with combed or trailed slips.  Dorothy enjoyed developing her own wares using these techniques and she learned that she preferred functional shapes over sculptural form.
Returning home to Silverstream, in the Hutt Valley, Dorothy used the kiln of Pinehaven potter, Flora Christeller.  This experience made Dorothy aware of the size and type of kiln she needed while she steadily set up her own working space and production of decorated earthenware.
Life continued, there were children, and between household duties, learning about and making pottery continued.  Dorothy met Shoji Hamada briefly during his visit to New Zealand in 1965 and was inspired.  She recalled seeing Hamada's "freedom of brushwork – big, bold strokes, which in themselves led to good design because they were so fluid".
By 1967, Dorothy had her own pottery and exhibited regularly with the New Zealand Academy of Fine Arts and the Wellington Potters' Association.  She specialised in slip-decorated earthenware – mainly domestic ware, slip-trailed, sgraffito or impressed design.  In 1969, Dorothy was elected as a member of the New Zealand Society of Potters.  She understood this was the principal way a potter could be recognised at that time.
Dorothy used a local earthenware clay found in Silverstream to which she added manganese oxide which was mixed with water in a washing machine to a smooth consistency and then sieved before being worked.  She later used some commercially produced clays.
Following the initial use of the green and yellow glazes introduced to her by the course with Shelly, Dorothy began developing her own and also supplemented these with glaze recipes compiled by Doreen Blumhardt.  For health reasons, she avoided working with the traditional red lead glazes from Europe because of the toxicity issues.
Dorothy continued her commitment to feathering and slip-trailing which fostered her design skills whereas she considered that many stoneware potters were reliant upon the reduction glazes and the firing processes to enhance their work.  One of her key talents, she felt, was knowing how to create a design to fit a particular shape.  The designs and patterns that Dorothy added to her work were inspired by her love of New Zealand's native flora.  She concentrated on motifs such as ferns, sea shells, Maori rock drawings and natural floral images such as clematis, flax flowers and kowhai and remained faithful to these designs for her entire career.
New Zealand's contribution to Expo '70 in Japan included a pottery component.  Dorothy joined an interested group, which included Doreen Blumhardt, that toured Japan at the same time.  They took the opportunity to visit Hamada at Mashiko and were well-received.  The group also visited the home of Takeichi Kawai, whom Dorothy had seen demonstrating when he visited New Zealand in 1964.  Dorothy presented a talk on her visit to Japan as part of the programme at the Wellington Potters' Association at the beginning of 1971.
In March 1974, the World Crafts Council – New Zealand Chapter sent a selection of craft work, that included pottery by Dorothy as well as Anneke Borren, Margaret Milne and Peter Stichbury, to a large crafts exhibition in Florence in Italy.  Dorothy's contribution was an oval dish featuring a Maori taniwha design.
Dorothy continued to work and exhibit regularly with the potters Pauline Abbott and Flora Christeller and, through her membership of the Wellington Potters' Association, she attended a course by Harry Davis and also visiting overseas potters Michael Cardew, Kenneth Clark, Daniel Rhodes and Hiroe Swen.  In the 1980s, it was her turn to teach and she was pottery tutor at the Hutt Valley Memorial Technical College and Upper Hutt College.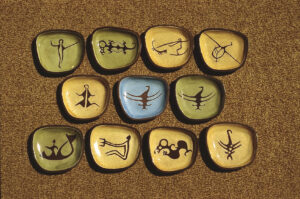 Work by Dorothy Ewart, 1988. Photograph: Hugh Ewart.
Attending the course in England with John Shelly triggered Dorothy's imagination for what could be done with earthenware pottery.  Her work displays a "New Zealandness" in ways that were in keeping with her times and shows her direct and honest use of local materials, her design skill, and her relationship with place.
Dorothy chose to stay with what she "knew and liked" and stopped making pots in about 1997 when she took up spinning and weaving, which she continued to enjoy until shortly before her death.
Written by David Josland, 1 February 2022.
Edited by Moyra Elliott.