Auckland report — May 2023
Thanks to our new Auckland Regional Council Member Siriporn Falcon-Grey for compiling this list!  if you have any events you'd like to get added please get in touch with her at auckland@ceramicsnz.org.
AUCKLAND CERAMIC EVENTS – May – July
Title: Mid Winter Market Day
Exhibitor: Various Artist
Where: Auckland Studio Potter, 96 Captain Springs Road, Onehunga, Auckland 1061
When: Sunday 30 July (Rain Date to be confirmed)
Title: Soup Bowl Project
Exhibitor: All bowls will be anonymous and will sell for the same price of $30. All proceeds will go to cyclone relief with a focus on some of the arts and ceramics Centre's damaged or lost in the floods, particularly in the Hawkes Bay region.
Where: Auckland Studio Potter, 96 Captain Springs Road, Onehunga, Auckland 1061
When: Sunday 30 July (Rain Date to be confirmed)
Title: Nourish
Exhibitor: Various Artist
Where: Allpress Studio, 8 Drake Street, Freemans Bay
When: 26 June – 13 July, Opening event Monday 26th June, 6pm-8pm
Title: Navel Gazing
Exhibitor: Aidan Raill
Where: Makers Gallery, 143 Marua Road, Mount Wellington, Auckland 1051
When: 13 May – 3 June, Opening event 13 May 3pm-5pm
Title: When The Smoke Clears
Exhibitor: The Manurewa Potters Club
Where: Nathan Homestead, 70 Hill Road, Manurewa, Auckland 2102
When: 13 May – 1 July
Title: DECADE
Exhibitor: Various Artist
Where: Black Door Gallery, 251 Parnell Road, Parnell, Auckland 1052
When: 10 May – 10 June
Title: Diatomaceous Earth and the Soft Machine
Exhibitor: Richard Penn
Where: Public Record, 76 Ponsonby Road, Ponsonby, Auckland 1011
When: 11 – 28 May
Title: Egypt: In the Time of Pharaohs
Exhibitor: Ancient Egyptians
Where: Auckland Museum
When: 15 June – 12 Nov
Title: Mirror Mirror
Exhibitor: Cobi TFJ Bosch
Where: Move Space, 473 Dominion Road, Mount Eden, Auckland 1024
When: 3 – 31 May
Title: World Clay Collab
Exhibitor: Various Artist
Where: Half Pint Gallery, 245 Hunua Road, Hunua 2583
When: 18 June – 9 July, Opening event Sunday 18 June, 2pm-5pm
Title: Life Underwater
Exhibitor: Rebecca Steedman
Where: Auckland Studio Potter, 96 Captain Springs Road, Onehunga, Auckland 1061
When: 15 – 28 May
Title: Meonji Soojibga | Dust Collector
Exhibitor: Suji Park
Where: Auckland Art Gallery Toi o Tāmaki
When: 2 Jul 2022 – 1 Jun 2023
Title: Dal
Exhibitor: Jino Jeong
Where: Corban Estate Arts Centre, 2 Mt Lebanon Lane, Henderson
When: 14 April – 27 May
Tracy Keith – Matariki Exhibition.  1st – 16th July 2023
Tracy Keith
(Ngāpuhi)
Whanganui-a-Tara
Aotearoa New Zealand
Tracy Keith's vessels are a sculptural continuum of the non-place we tread, stripping back it's rawness through growth and divisions of human settlements inhabited in crevices and folds of a dark universe of the human construct. The attachments are like shards of glass splintering the flesh of the land protruding and piercing the surfaces creating divisions that disrupted the natural order of the container, they are non-utilitarian in a sense they have become unusable and contain the memory of a vessel. They are growths within the land to compensate misuse of the whenua, which is becoming unusable and unrecognisable, objects that intentionally avoid the instantly recognisable and instead create abstracted forms that evoke memoires of the whenua (land) and that reflect something ancient and timeless. The Raku process has become the conduit between the past and the present, the representation of old industry interlaced with new industry, ancient rituals transcending to indorse the new rituals, Raku vessels that reflect tea bowls of Asia where they hold huge significance in ceremonial practices, vessels that hold life to give life, the whenua is but a vessel that holds life and gives life. They are vessels of our natural environment stripped-back, roughly cast and embossed forms, which help to transition between the modern and the past. The presence of the past in a present the replaces it but lays claim to it; it is in this conclusion that we see the essence of a non-place manifesting an idealistic memory of a place, that remembering of what was before a diaspora life set into cultural life.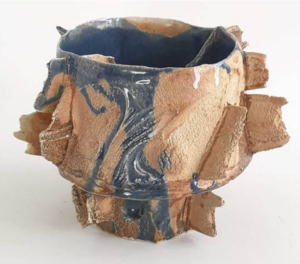 Title: The healing waters of Papatūānuku
Medium: Wood Fired Ceramic
Dimensions: H 116mm x W 128mm x D 95mm
Price: $1400