Central North Island report — May 2023
Driving Creek workshops
Phoenix Kiln Demolition and Rebuild Workshop with Duncan Shearer
Driving Creek Pottery's Baseyard Phoenix kiln has reached the end of its
current iteration.
Come and be part of the deconstruction and the rise from the ashes of the new iteration of the Baseyard Phoenix V2.
This is an awesome opportunity to learn about wood fired kiln construction and deconstruction from Duncan Shearer, one of the experts in the field in New Zealand. Duncan lives and works at Rahu Road Pottery near the Karangahake Gorge where he uses his vast knowledge to teach with his partner and fellow potter Charade Honey. He also consults on a range of pottery subjects including kiln construction.
The workshop will be done in two parts:
1: July 3rd to July 5th
Deconstruction – Three days under the expert ministrations of Duncan Shearer Master Kiln Builder.
We will be stopping to measure, take photos and notes, and to analyse where the bricks have deteriorated the most to determine what needs to be done when rebuilding. We will also be cleaning and sorting the bricks for reuse, and will be using angle grinders, cup grinder disks, rubbing stones, PPE etc.
2: July 8th to July 15th
Rise From The Ashes – 8 days led by Duncan again.
Start at the bottom and work upwards to the chimney, brick by brick. There are two arches involved so plenty to learn about and lots of opportunity to do all the jobs involved. Range of tasks that can be done include mixing mortars, moving bricks, arch former building, steel prep, brick laying, measure checking, brick cutting, etc.
2-Day Clay Making Workshop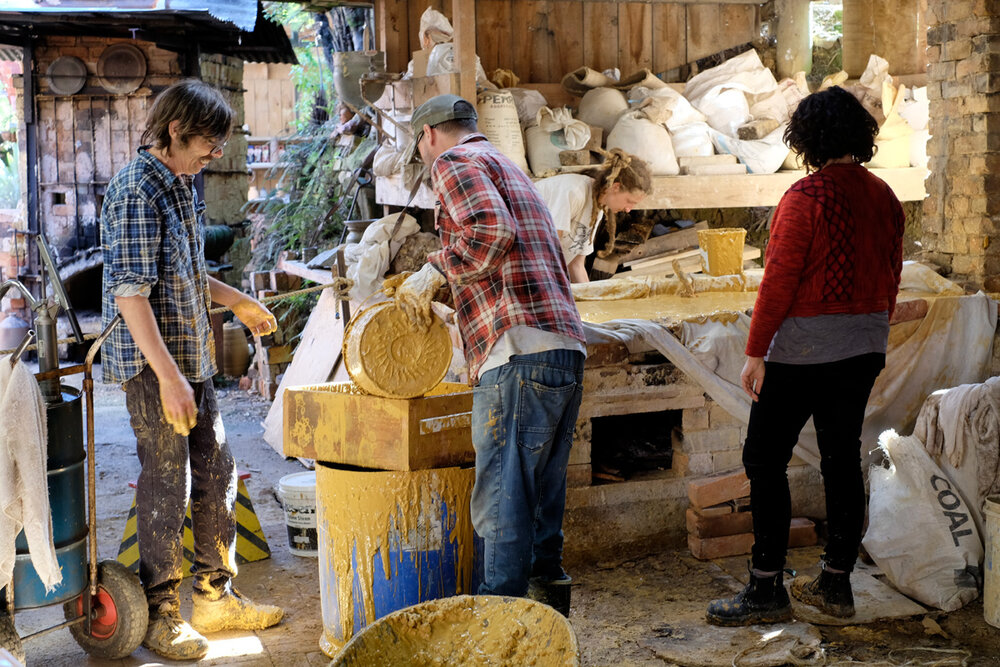 Duration: 2 Days (approx.)
Location: Coromandel Town, Waikato
Join us at Driving Creek Pottery for a weekend of messy and fun clay making. During the 2-day workshop you will learn the valuable skill of how to make and process your own pottery clay.
Waikato Potters events
2-23 June: Friday evening Introduction to Pottery class
10 June: Jewellery Making with Porcelain
25 June: Watercolours on Pottery
1-2 July: Head Studies with Javier Murcia
8-9 July: Simplified Figure Studies with Javier Murcia
"Paintings and Sculpture" exhibition at Blue Gallery
Opens Saturday 20 May 2023, 1-3pm
Runs until 10 June 2023; Wed-Sat 11.30am-3pm
Blue Gallery, Anzac Parade
Sylvia Sinel's sculptures will be part of an exhibition along with paintings by The Monday Group.
Sylvia is a Hamilton based ceramic artist. Her art practice spans over thirty years and besides clay, painting has always been a big part of it. During the Covid lockdown Sylvia started exploring ways of incorporating painting on form. Some of these works are part of this exhibition as well as some sculptural pieces, most of them finalists in various award exhibitions.
2022 Sylvia was a finalist in the Portage Ceramic Awards, New Zealand's premier showcase of contemporary ceramic practices. Her work is found in many private collections world wide.