Northland update – Nov/Dec 2023
Exhibition – Erosion by Jordan MacDonald
You are invited to experience an emerging ceramic artist exhibit at the Yvonne Rust Gallery, Quarry Arts Centre.
Jordan has been working with clay for a number of years and for the last 6 years her interests have shifted to a more in-depth practice which has culminated in completing a Diploma in Ceramics this year. She has a deep interest in the relationship between humans, soil, and their resilience. With her background as an environmental educator, she now turns to a different medium to communicate thoughts on our interaction with the soil on which we rely on. The forms in this exhibit take inspiration from water holding vessels, some from ancient irrigation systems, drinking water pots and more modern-day bottles and tumblers.
15 – 29 November 23
Opening night Wednesday 15th November 5pm. Refreshments provided.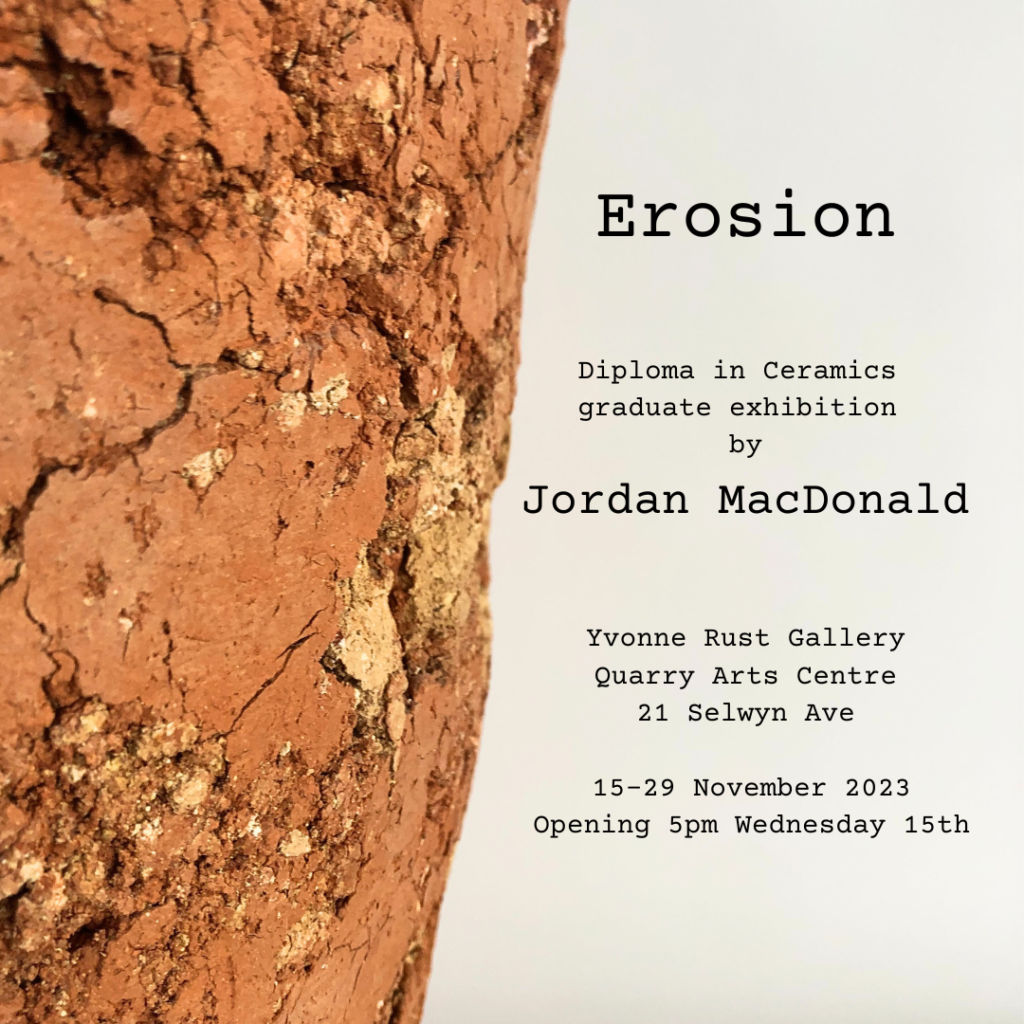 Exhibition – PRECIOUS VESSELS
A menagerie of precious vessels adorned with colour and story born of legend, myth and dream. By Rosie Parsonson & Richard Darbyshire.
Since 2013 Whangārei based artists Rosie Parsonson & Richard Darbyshire have collaboratively developed their practices together in the ceramics discipline. In this work the engraved lines and brush work composed by the hand and mind of Rosie, sits over and around the vessels and forms thrown and sculpted by Richard.
PRECIOUS VESSELS
Makers Gallery
Open: SAT 18th NOV, 3:30-5pm
Drinks & Nibbles | All welcome
Exhibition: 18th NOV – 2nd DEC
Gallery hrs: WED – FRI 10am – 3pm, SAT 10am – 12pm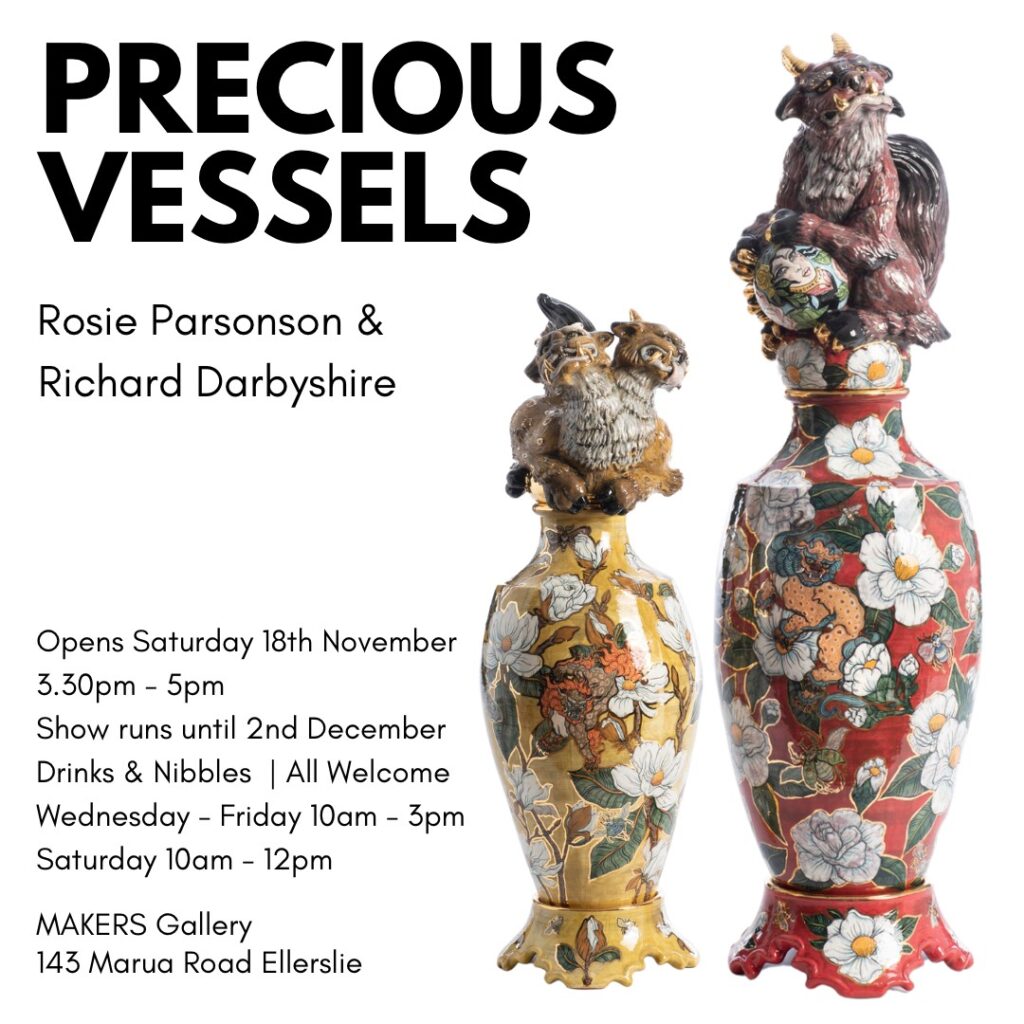 Open to all ceramic artists, there is a ceramic market exhibition at the Quarry Arts Centre, Whangarei. If you are interested in participating you can contact The Quarry Arts Centre for the relevant forms. The Ceramic Market Exhibition is a CA$H & CARRY tabletop affair for collectors to buy beautifully hand-crafted ceramic gifts for the silly season. Held in the Yvonne Rust Gallery at the Quarry Arts Centre from the 6th – 21st December.
Congratulations to local Northland clay artists for being finalists in the Waiclay Ceramic Awards 2023. Both Rosy & Rich (Rosy Paterson and Richard Darbyshire) and Greg Barron were awarded Highly Commended for their pieces by the judge, Greg Daly.
Creature of the Nature.
Rosy Paterson and Richard Darbyshire
Woodfired, handcarved porcelain & celadon glaze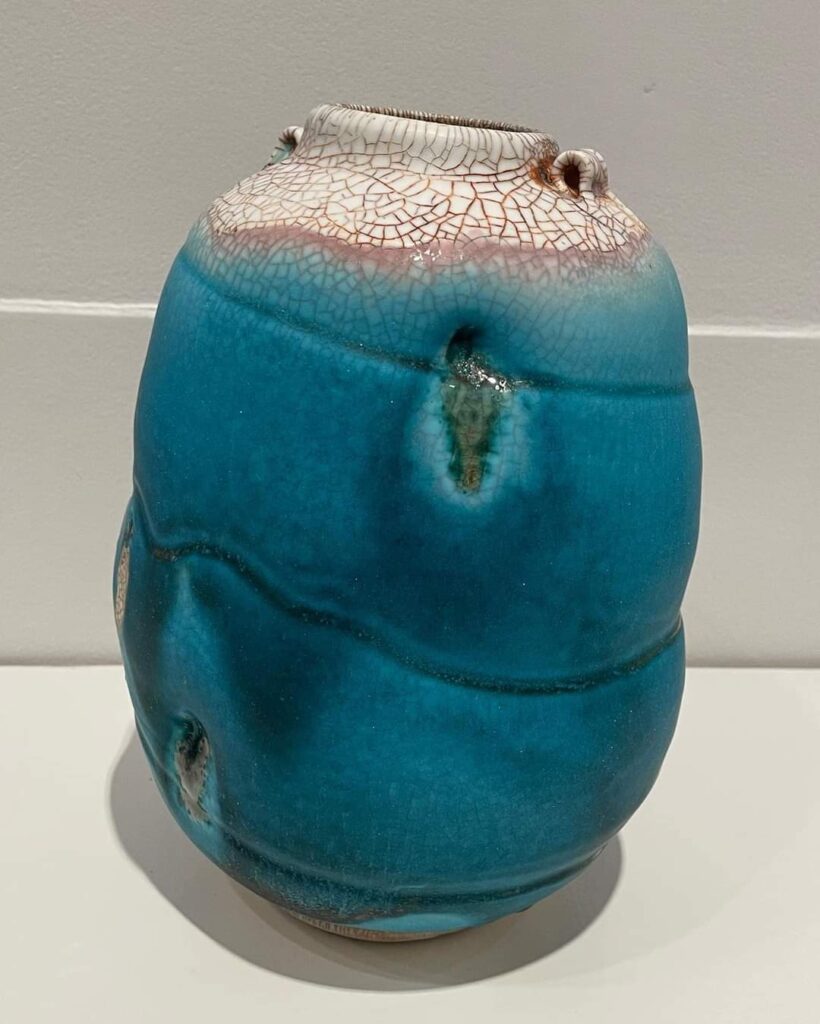 Lugged Vase with crackle pattern
Greg Baron
New Phoenix wood kiln at the Quarry Arts Centre, Whangarei.
Discussions and planning are underway for building the new wood-fired kiln under the guidance of Duncan Shearer. At this stage the aim is to start the project in the new year. This will be a welcome addition to the existing kilns at the quarry; having a smaller, faster wood-fired kiln contributes to the learning of this style of firing for the ceramic community. 
Study – Diploma in Ceramics
Take your ceramics to the next level with an NZQA-approved programme with weekly hands-on studio tuition at the Quarry Arts Centre.
Gain the NZ Diploma in Arts and Design (Levels 5 & 6) – Ceramics with Dunedin School of Art, Otago Polytechnic, and held at the Quarry Arts Centre, Whangarei.
For information about the in-studio experience at the Quarry Arts Centre, contact Russel Mooyman – manager@quarryarts.org