Wellington & Western Districts update — Nov/Dec 2023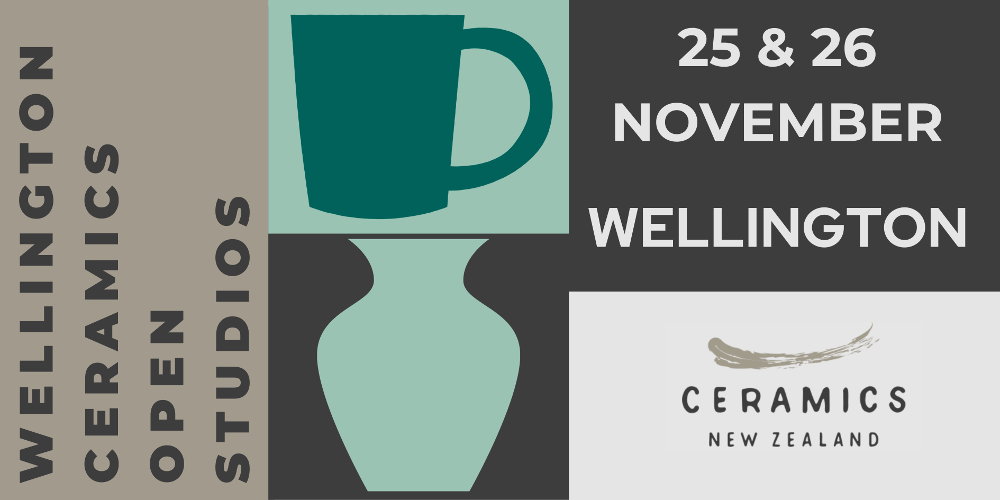 SAT 25 & SUN 26 NOVEMBER 2023 – Ceramics Open Studios – Greater Wellington
Celebrate clay, community and creativity by visiting your local potter on 25 & 26 November 2023. Over 20 potters and ceramic artists from all over the Wellington region will open their studios to the public for the Wellington Ceramics Open Studios. This is the first in what will become an annual national New Zealand Ceramics Open Studios event.
It's a rare opportunity for the curious to step inside a working studio, chat with a local artist and experience the simple pleasures of clay and the making process.
There will be demonstrations, kiln firings and original ceramics to purchase from potters located in the suburbs, city and rural settings, from Carterton to Island Bay.
Approaching Christmas, it is the perfect antidote to hectic gift shopping! Slow down and shop with makers who focus on handcrafted one-of-a-kind pieces made to last for many generations.
All studios are open 10am to 4pm, Saturday and Sunday and entry is free.
Profiles of all participating artists are found on openstudios.ceramicsnz.org.
We are still currently taking registrations for Artists. The close-off date is January 1st. It would be great to get the word out to all of the local (and not local) artists to make sure they are aware of the event and the opportunity to showcase and sell their work. The event is extremely popular and is the club's biggest fundraiser of the year.
The other fun event is our Public Raku date in early December. The public can come, buy a bisque piece, glaze it, then watch it be fired and collect it the same day. December 2nd at the Otaki Pottery Club clubrooms, 47 Te Roto Rd, Otaki.
We also have a graduate exhibition on the 16th of this month for two of Jenny Turnbull's Diploma in Arts & Design in Ceramics students; Kimberley Edkins and Jacki Haddow at our Tote Modern Gallery. 47 Te Roto Rd, Otaki.
Opening at 5:30 with drinks and nibbles, Thursday the 16th of November. The exhibition runs till the 30th of November.
Applications open for Wellington Potters' Association Potter in Residence – 2024
Wellington Potters' Association are calling for applications for 2 x 3 month residency positions in 2024.
As potter in residence you be part of a vibrant community of 500+ potters, be paid to run members only workshops and have access to our club facilities and events.
For more information and to apply: Residency Programme — WPA (wellingtonpotters.org.nz)
Whanganui Potters Studio
Each year the Whanganui Potters Studio runs a community focused event called Art in the Garden, a celebration of art and the outdoors.
Whanganui based artists, and invited artists set up ceramic and outdoor artwork throughout the garden. Over the weekend the public are welcome to visit and admire or purchase the artwork.
There will also be raku firing, pottery demonstrations, clay based activities for kids (and adults), plants for sale and live music. Free admission but please leave your dogs at home.
Lovely Cuppa
New for 2023. Members have been hand making unique and quirky keep-cups to reduce single use disposable cup waste. Proceeds will support the club's community activities. Strictly one cup per person, numbers will be limited.
Rain or shine, Art in the Garden will be on from 9am to 4pm Sat 2nd and Sun 3rd of December at 38 Pauls Rd, Whanganui.
We still have some exhibition spaces available, so if you are interested in exhibiting your handmade ceramic or outdoor art, please contact whanganuipotters@gmail.com or via www.whanganuipotters.com