The Ceramics Association of New Zealand is pleased to announce the finalists for the Ceramics NZ 60th National Diamond Jubilee Exhibition. The sixty works included in this year's milestone exhibition have been selected by Dr Emma Bugden through a two stage judging...
read more
The Hon Carmel Sepuloni, Minister for Arts, Culture and Heritage has announced the winner of the 2021 Emerging Practitioner in Clay Award via video message. The $12,000 triennial Award, which was first presented by the Rick Rudd Foundation in 2018, has been...
read more
May 3rd, 2021 Reikorangi On a bright, sunny Monday afternoon in May 2021, around 150 people gathered to celebrate the life of Wilf Wright. Among them were potters, artists, musicians, family, caregivers and helpers. Those...
read more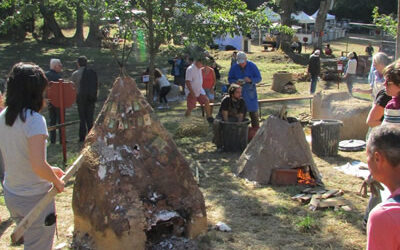 On holiday recently, we searched out some interesting potty places to visit. The village of St Jean-la Poterie, in Brittany, has a 1500-year tradition of pottery and clay work. Their two-day "Fête des Lises" was held in a large park and was a festival more like a mini convention than a market.
read more
On now at Gallery Twenty Six @ 26 Constable st in Newtown, we have a selection of Wellington Potters associations members all congregating for a ceramic pop-up extravaganza. Fancy a spot of Christmas shopping or a chance to discover some of wellingtons hidden pottery...
read more
Waikato Society of Potters have been starting to get workshops underway again after delays. Javier Murcia has been giving a three day workshop on simple sculpture, making molds, plaster and silicone. WSP management are working hard to keep things moving along. They...
read more
Thank you to all those that traveled to Dunedin to be at our 60th National celebrations. The awards night, judges talk and weekend events were well attended and made for an inspiring and social weekend. Thank you to the Fusion 2010 team, our sponsors and to all who...