Covid-19 Protection Framework for Pottery Clubs and Studios The introduction of the traffic light system on December 3rd has created some confusion for clubs and pottery studios wondering how they fit in and can operate under the new framework. Below we've put...
read more
The Ceramics Association of New Zealand is pleased to announce that Kate Fitzharris is the winner of the Ceramics NZ 60th National Diamond Jubilee Exhibition Primo-Pro Premier Award for, A Small Plate made from Japanese clays. The $3000 Premier Award and full list of...
read more
May 3rd, 2021 Reikorangi On a bright, sunny Monday afternoon in May 2021, around 150 people gathered to celebrate the life of Wilf Wright. Among them were potters, artists, musicians, family, caregivers and helpers. Those...
read more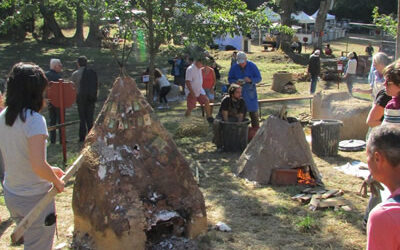 On holiday recently, we searched out some interesting potty places to visit. The village of St Jean-la Poterie, in Brittany, has a 1500-year tradition of pottery and clay work. Their two-day "Fête des Lises" was held in a large park and was a festival more like a mini convention than a market.
read more
The Otago Potters Group in Dunedin recently hosted a Salt and Soda Kiln Firing Workshop, the inaugural firings in their new kiln which was built in a previous workshop under the guidance of Duncan Shearer. 
read more
Thanks to our new Auckland Regional Council Member Siriporn Falcon-Grey for compiling this list!  if you have any events you'd like to get added please get in touch with her at auckland@ceramicsnz.org. AUCKLAND CERAMIC EVENTS - May - July Title: Mid Winter Market Day...
read more
Carla Ruka is scheduled to visit Waikato/Tauranga area in early June. Our venue and exact dates are yet to be confirmed so keep an eye on our website and social media for updates. If you would like to host a workshop series, artist talk or school visit in the area or...